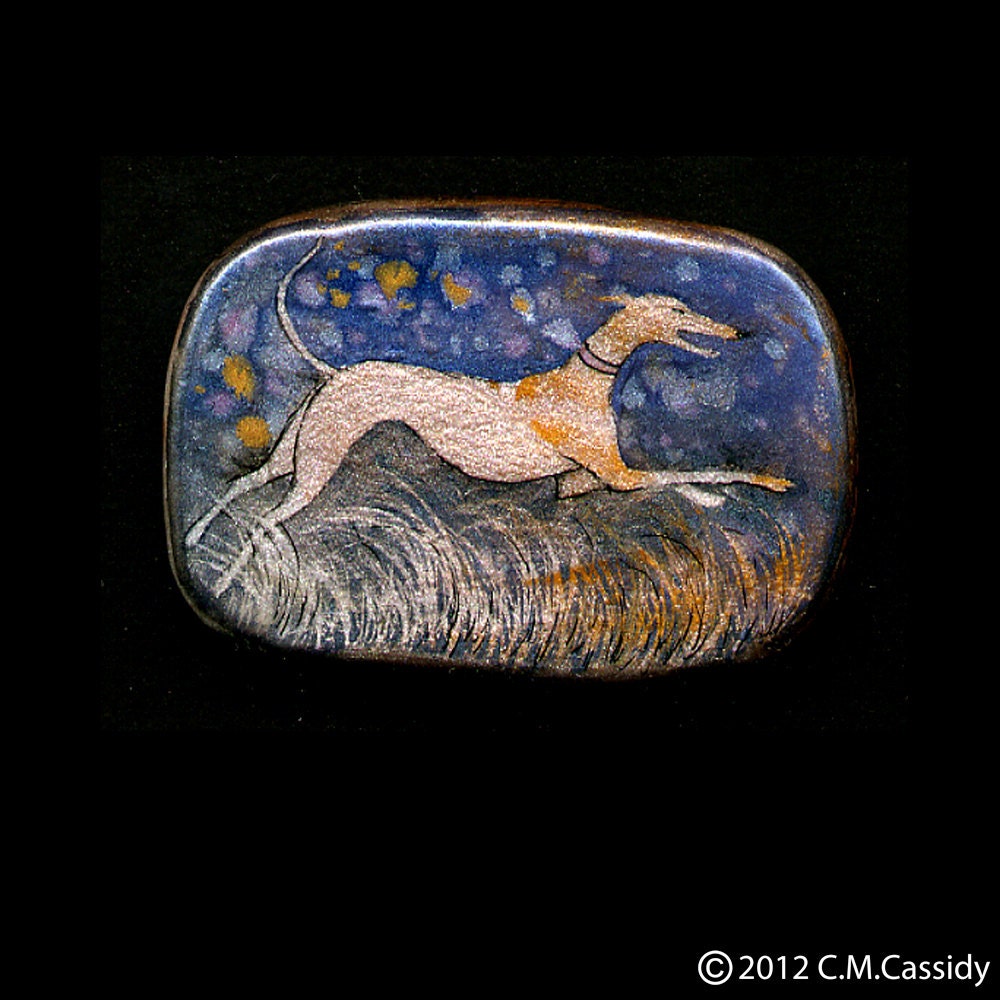 I love this painting now that I've seen mine have similar expressions!
Last night we took Ferguson and Winry to the state park up the road...the one with the huge fenced dog park with hiking trails within it. While they've been to the park before, going at night was like a whole new adventure for them! They ran and ran and ran and played and frolicked and danced around us as we made our way along the path near the fence. The stars were out, the coyotes were howling (don't worry, the fences are high, regularly maintained, and in-ground to keep them out) and both of them acted like it was the best day of their lives. It was very fun to watch :) Unfortunately, since it was night, I didn't get any pictures of the event...I'll have to see if my fancy camera is that fancy.
In any case, fun was had by all. The only thing I'd wished we had was a glow in the dark ball!
Some other suggestions if you're thinking of going night hiking, exploring, or dog-parking:
Blinky lights! They sell these at dollar stores and are attached to your dog's collar so they can be easily seen, even from a mile away. They also reflect. I always had them for my Labradors, (especially the black ones), and would find them extremely useful in this type of scenario as well. It's good to see your dogs, even if it is a fenced area.
A flashlight. On our walk, so many patches looked like giant puddles, when in reality they were covered with a tarp from previous flooding. It was also helpful to see farther down where trails would lead and the condition of them before you got there and had to turn around! And, of course, for poo pick up!
An extra sweatshirt. At least here in CO, temperatures can drop, and very quickly. Last night, Arik needed my extra hoodie I had in the car. Let's just say while he was warm, he also was looking fabulous!
Water, if your dogs are zaney and there isn't a natural stream or pond nearby.
Some vet wrap and gauze, just in case!
A squawker. At one point we had Ferguson, but Winry disappeared into the tall grass and we didn't see or hear her anywhere. With a squawk from the squawker, she came back, bounding through the grass and thrilled to go on. A very helpful tool.
Treats or snacks, especially of medium and high value to continue to reinforce your dog coming to you. Call them occassionally when you know they'll listen and give them a big reward, then let them go play again. They'll learn to not associate "come" with being put back on the leash, and to come quickly!
A backpack to carry it all in so you can have your hands free.
A towel, at least in the car, for unexpected muddy paws.
Since the dogs had such a blast, I look forward to when we can go again in the near future; I'm hoping it will be less muddy/puddly next time from recent rain/flooding. It's awesome getting to watch them have so much fun, and I'm glad they're enjoying the gorgeous state of CO as much as I am :).